Update: 05-02-2015, 4:39pm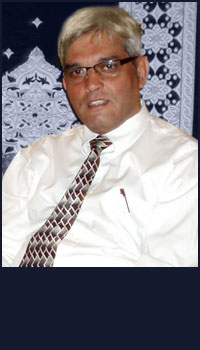 Mushtaq A Mohajir, CEO
Qualifications:
Masters in Marketing, University of Strathclyde, Glasgow, UK (1986)
MBA, (IMT, Ghaziabad, India)(1984),
ISO9000 Trained QMR & Internal Systems Auditor by PE Batalas, UK
(1994)
Experience:
18 Years of Experience in Senior Management position at diverse professional organizations in management, marketing and international business development.
Acquired profound understanding of functinality and management at different business organizations over the years and created suitable software designs for desired solutions and end results.
Computer Skills:
Software Engineering, design and Documentation
Website design and coding & Multimedia Presentation
Tools:
HTML dHTML, XML, JS, Flash pro , Action Script 3.0, PHP, Dreamweaver & CSS3, Adobe Photoshop, Coral PH, Illustrator etc.
M Syed : Project Co-ordinator
Qualifications
Master of Science(MS) in Computer Science (Dec 2002)
University of Nebraska-Lincoln, Nebraska, USA .
Bachelor of Engineering in Computer Science (Aug 2000)
Jawaharlal Nehru Technological University, Hyderabad, INDIA.
Computer Skills:
Languages and API:
C, C++, Visual C++, PL/SQL, Java, J2SE, J2EE, Servlets, JSP 1.2, EJB 2.0, JDBC 2.0, JAXP, JNDI, Java Beans, RMI, CORBA, HTML, JavaScript, Cascading Style-Sheets, XML, XSL, XSLT, AWT Swings, Visual Basic, Pro *C/C++, Perl, PHP, Shell Programming, COBOL, Pascal.
Platform:
Linux, Sun Solaris, Windows NT/2000/95/98/XP, WebLogic 7.x, Apache, Tomcat, IBM WebSphere, JRun, SunOne Application Server 7.
Tools:
LATEX, JBuilder, Rational Rose(UML), Forte 4 Java, FrontPage, SunOne Studio.
Database:
Oracle 7.3, 8i, SQL Server, RDBMS, Data Modeling, Access 2000, MLPQ
Projects:

Developed ERP package for small Enterprise to automate Invoices, operations, supply chain
.... management, inventory management , accounting. And control. Front end: - VC++, Back end: - Oracle.

Developed package for Car Rental Enterprise for operations management, billing, accounting and
.... MIS. Front end:- VC++ Back end:- My SQL.

Developed a Library Software incorporating all the essential features of library system. Front
.... end:- VC++ Back end:- MS Access.

Providing database and interactive solutions for websites through ASP, JavaScript, VBScript.

Developed PL/SQL packages for Document Exchange Manager, file loads and data analysis for
.... Sandhill Publishing Inc., Chicago IL

Generated SQL, PL/SQL scripts to install, create and maintain Document Database Objects for
..... Sandhill Publishing Inc., Chicago IL

Implemented report generation code for DBMS_OUTPUT and other oracle report generation tools.
At Global Scientific, clients are assured of reliable, timely and best in business service at all times. We are committed to continuously stive for Total Customer Satisfaction.